Considering Swiss Boarding School? How Your Child Will Benefit From ENSR's Rigorous Academic Programmes
December 8, 2021
ENSR is founded upon the belief that a quality education focuses on individuality, flexibility, and international collaboration. These are the core values of the classes at ENSR. Our curriculum is designed in a spirit of innovation to prepare our students to succeed in a globalised world. Your child will receive a well-rounded education with a strong emphasis on language development to promote lifelong skills and a love of learning. As they progress through to High School, our dedicated teachers are there to allow each child to follow a curriculum adapted to their needs. By the end, your child will graduate with a strong academic foundation and the drive to pursue their own path. Here's a closer look at how our academic curriculum supports the development of young students!
Inspiring a Love of Learning at Our Swiss Boarding School
At ENSR, we aim to enrich the lives of your child with the knowledge and confidence to succeed now and into the future. We ignite curiosity in our students which will see them through their academic pursuits. In Primary School, our curriculum nurtures self-discipline and autonomy in the classroom while developing essential skills in reading, writing, and mathematics. Middle School builds upon the spirit of discovery and encourages each student to inquire about the world around them. Our teachers are there to optimise the potential of each student through a Common Core syllabus of 13 subjects and a bilingual learning environment. 
During the years in High School, your child will focus their attention on one of our challenging academic streams: the Swiss Maturity Diploma or the International Baccalaureate Diploma. Students at our bilingual school develop an academic foundation that will expand their opportunities for the future.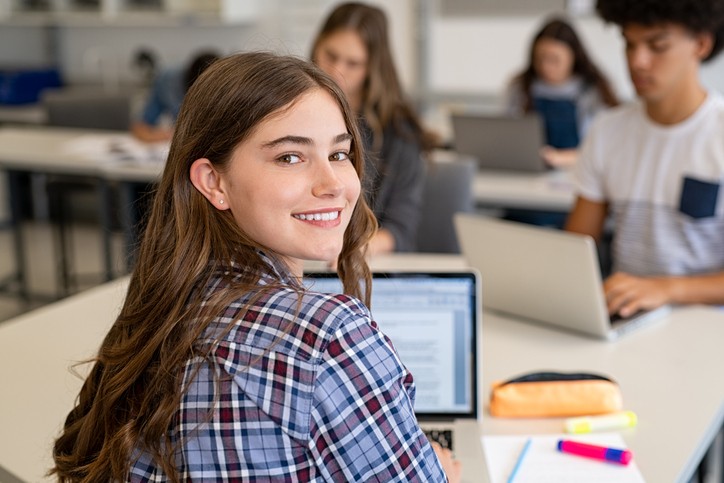 Personalised Teaching for Your Child
The academic success of each student is a top priority at our Swiss boarding school. If you're interested in a school that offers an individualised learning environment for your child, ENSR is the place for you. Our highly qualified teaching staff members are invested in helping each student to thrive at every stage of their education. To do so, they apply educational programmes with flexibility. Our curriculum welcomes differentiation; the individual needs of the student are respected and teaching is adapted to ensure that each student is given what they need to achieve academic success. We offer a multilingual curriculum primarily taught in French, English, or both, with German language studies added to the programme at primary school level.  ENSR also provides students with the additional option of studying other languages, for example Spanish, Russian, Chinese and more. Our team collaborates with students and families to support the development of each individual and to encourage them to reach their full potential. In this setting, academic rigour meets individuality and learning diversity.   
Preparing Students for the Future
Students at ENSR are equipped for academic success both during school and beyond. Whether students opt for the Swiss Maturity or the International Baccalaureate Diploma in high school, they will discover a challenging pathway to excellence – with both programmes widely accepted by top universities in Switzerland and around the world. Students in the IB programme become active, lifelong learners with a strong intercultural understanding. A core component of the programme is the Theory of Knowledge, in which students develop critical thinking skills based on the discipline of Philosophy and Epistemology. They are taught to inquire into the world around them and are challenged to take action. 
Likewise, the Swiss Maturity Diploma provides students with a strong academic foundation in 13 different disciplines. The programme involves Core, Specific, and Complementary subject options. Each programme culminates with an extended research project of 4000 words. Whatever educational path they choose, your child will be equipped for future studies at top universities around the world. 
Interested in learning more details about our international school in Lausanne?
Contact ENSR today!